ChiroTrust Attracts All of Your New Patients for You.
For a broad overview, watch the informative video below.
If you have questions or need more details,
schedule a call with Ben Altadonna (see below).
Since every D.C.'s question(s) and current situation varies, to answer every question that you may have, and to fully explain how ChiroTrust attracts patients to your office, we will call you during a time that works for you.
PLEASE READ:
To qualify for this 30-minute phone call, you must be currently seeing your own patients or have associates that provide the treatment for you. You must be practicing Chiropractic. You must be the decision maker. If you aren't currently practicing and are planning on opening a practice in the future, then schedule this call 4 weeks prior to opening your doors. Only 1 call per doctor.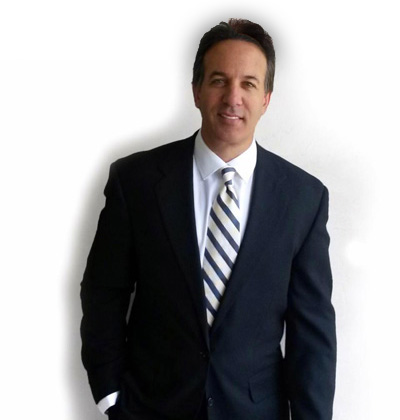 Click a free day and time on the calendar below to set up an appointment. Please make sure you choose a time when you can be seated at your desktop computer.
All times indicated are Pacific Time. (Don't mess this part up!) 🙂
(Eastern time is 3 hours ahead, Central time is 2 hours ahead, and Mountain time is 1 hour ahead.
For example, 12 noon Pacific time is 1 PM Mountain, 2 PM Central, and 3 PM Eastern.)
Ben will be calling you.
High Overhead? To get Ben's take on true causes and
most importantly, possible solutions,
pick an available time for Monday Feb. 4th – Thursday Feb. 7th.
Available
Unavailable
Not possible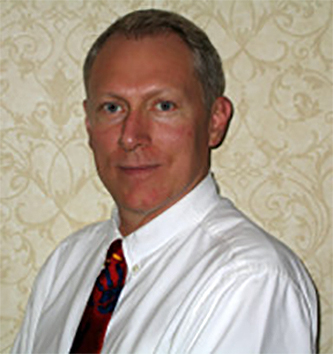 "I love what ChiroTrust does for its members and am proud to be a part of it."

– Dan Murphy, D.C., DABCO
Here's Proof That
ChiroTrust Will Work For You Too…
Why this doctor returned to Chiropractic…
Hear what this doctor decided to do in a town of only 1,400 people…
Chiropractor moves into parent's basement, declares bankruptcy and then did the unthinkable…
Chiropractic consultants pray that you don't see this video…
Super ambitious? Is your personal life this good?…It could be!
---
"Just finished my 2nd week open in my new office. I've had 15 new patients and did 25 this week on three days…"
Jason Lyles, D.C.
---
"As soon as we started doing this, our numbers, within about a month, tripled. I couldn't believe it."
Dr. Duncan, D.C.
---
"139 visits this week. Another 14 new ones. My target for this year… was 80 visits per week. This is fantastic!"
Craig Butler, D.C.
---
"New patient visit still strong as heck… 14 new patients today. That makes 110 for the month so far."
Billy Rodriguez, D.C.
---
"I love what ChiroTrust does for its members and am proud to be a part of it."
Dan Murphy, D.C., DABCO
---
"ChiroTrust has got me to the point where I don't have to think about the practice. Every weekend for me is a vacation… I don't worry at all from where that new patient is going to come from. They just continue to come in."
Ray Marquez, D.C.
---
"I joined initially because it seemed like a win/win with little out of pocket to gain some knowledge. I had tried several other "coaching" groups, and was very disillusioned and discouraged. Also out tens of thousands of dollars. After implementing your strategies…my practice began to grow effortlessly. I just appreciate the no BS approach to dealing with practice, patients, marketing, and success. Appreciate you. Thanks."
Wil Holdsworth, D.C.
---
"You are the best thing to happen to chiropractic!! Your company has taught me how to look act and be successful as a chiro. In 5 years im seeing 200 pt a week 30 of which are new all in 28 hours a week!! All stress free with 2 ca's in 800 sq ft. I have so much to say but I know u are all about being concise.
You rock!"
C. Archer, D.C.
---
"I have been with ChiroTrust since 2012 and would recommend them highly to any chiroprator who wants to serve more patients and have a great support system with help in mamy areas of practice. It is well worth the money and I recommend you join them ASAP. Have a great day!!!"
Gregory E. Johnson, D.C.
---
"Listen to ChiroTrust… Stop chasing new patients. We get 200+ new patients monthly…"
Thaddeus Gala, D.C.
---
"I no longer stress over my practice."
Edward Olff, D.C.
---
"It is time that I take a few minutes and thank you and all the ChiroTrust advisors for making practice joyful again. I am having more fun than I have in a long time. We are busier than we have been in a long time. We are more profitable than we have been. ChiroTrust makes practicing more simple. There is more life to live because ChiroTrust has systems in place for us to use. We just have to work the systems. Thanks again Ben. You're the BEST!"
Pam Kirkwood, D.C.
---
"ChiroTrust is an elegant, professional service that allows you to connect and stay engage with your patients, your "list" and your community. It is user friendly, easy to implement, and effective. For the reasonable monthly fee, I could never duplicate the materials and communication pieces produced. For me it has become a "no brainer."… No stress. No fuss. No hard sells. No pressure. Patients are happy. Staff is happy. I am happy. After 20 years of practice, I feel more relaxed then ever. I no longer worry about where the next patient is coming from."
Stuart Katzen, D.C.
---
"The community created through ChiroTrust is second to none. Ben Altadonna excels in teaching you, not only how to think about your practice, but how to live an enjoy a balanced and active life. I don't know that I would still be in this profession without ChiroTrust. Thanks Ben Altadonna for everything you do."
Joshua Healy, D.C.
---
"I have a practice where people pay my fee and refer others without doing outside marketing or shows. Thank you for all you have done for me and a big thank you in advance for what I know you will continue to do for me going forward."
Adam Fasick, D.C.
---
"I have been working with Ben for almost 9 years (after being in practice for 10 years prior to that)… Chiro-Trust does so much work for you, in a turn-key system, that it is pretty much a no-brainer… I would highly recommend working with Chiro-Trust. The last 9 years of my practice have been so much lower stress, more fun, and more profitable than it had been in the previous 10 years. You won't be disappointed."
Brett Dworkis, D.C.
---
"There is a tremendous amount of noise and bad information out there among chiropractors. There are ugly scripts, sleazy sales techniques and scare tactics that some DCs / other firms teach. I feel good about being part of a group who provides "convenient affordable mainstream care" with "no unnecessary long term treatment plans."
It is such a rewarding way to practice. ChiroTrust has taught me that giving patients what they want on their terms allows them to refer me patients and me to treat more people and ultimately expose more people to the benefits of chiropractic care… I believe our profession as a whole could benefit from the concepts that ChiroTrust teaches as well as its professional and almost invisible marketing strategies. I recommend ChiroTrust to any DC wanting to love practicing and grow their practice in a stress free and elegant professional manner… Thanks to Ben Altadonna for his continued dedication to helping our profession."
Jennifer Stepanek, D.C.
---
"I have been a member of ChiroTrust for well over a decade now. I immediately saw the value, and did not delay in getting signed up! In my 30 plus years of private practice, this has been by far my wisest investments not only for my practice, but my personal life! In fact the investment is very small, but the returns have been phenomenal!"
Mac Miller, D.C.
---
"ChiroTrust provides you with a systematic method to promote your practice seamlessly and w/o having to hopscotch around trying "the next best thing"! Ben has done the research and distills the information to you so that it is easy to implement. Try it, you'll like it!"
Thomas Joyce, D.C.
---
"ChiroTrust is the best because the ChiroTrust team recommends simple, clear-cut action steps, and a lot of them ChiroTrust Gets DONE for me! Thank you Ben and the ChiroTrust Team."
Cecil Ashby, D.C.
---
"I am happy in my practice again. I keep it simple and enjoy my patients. I look forward to Ben's emails and recordings. It helps keep me focused. I appreciate ChiroTrust and all it and Ben do for my practice and for this profession. It is worth every penny! I will be a member as long as I am in practice. Thanks Ben!"
Roy Evans, D.C.
---
"The monthly cost for ChiroTrust is minimal compared to the value it brings. It's like having a full time marketing team working for you for the cost of a quarter-time employee. I wish I had started with ChiroTrust years ago. I highly recommend it."
Jamey Dyson, D.C.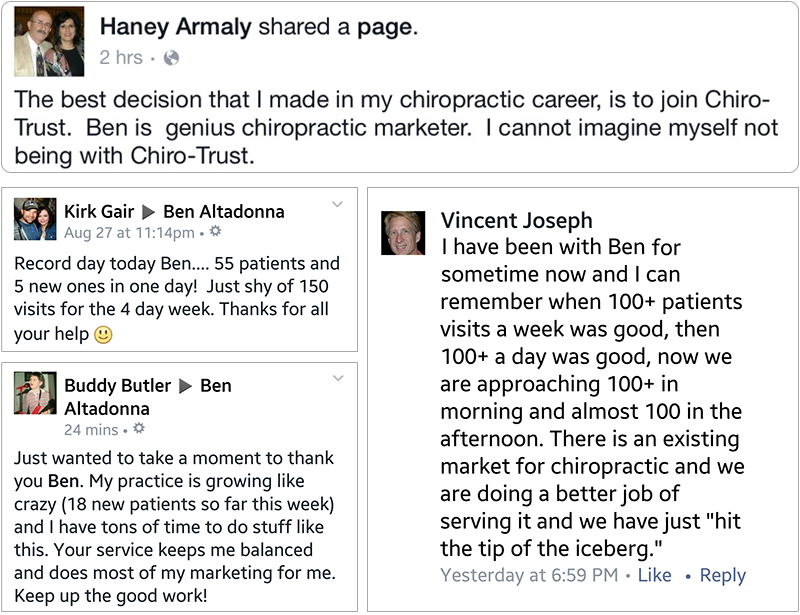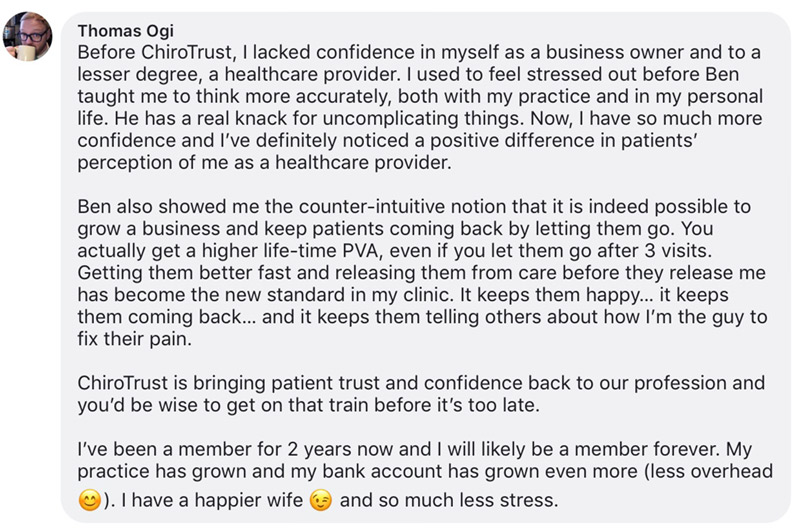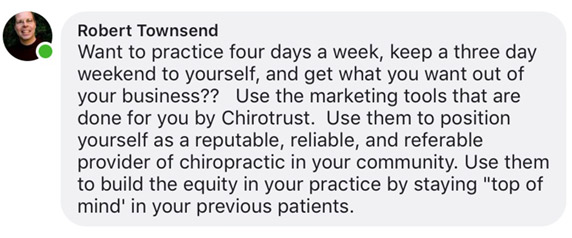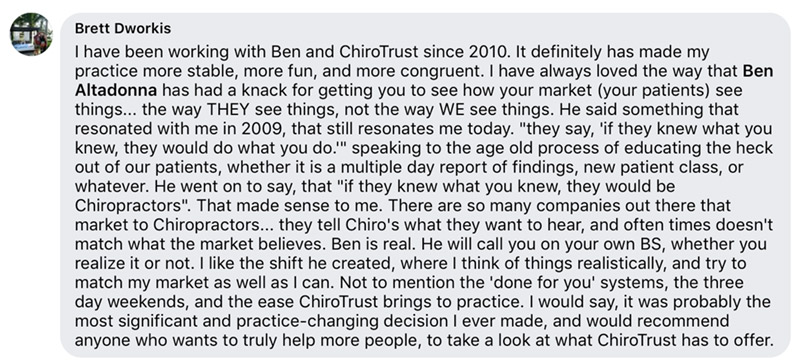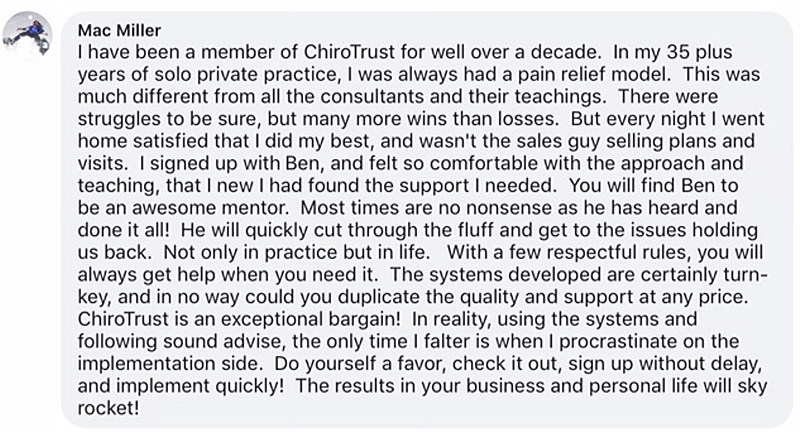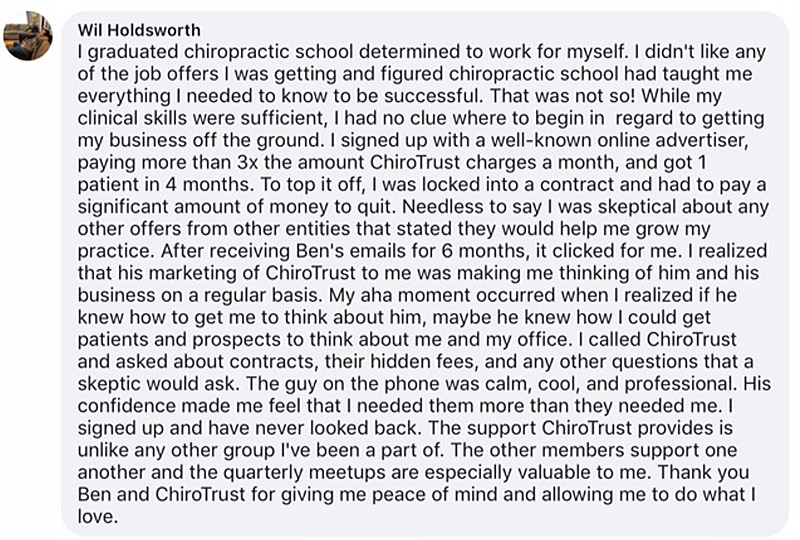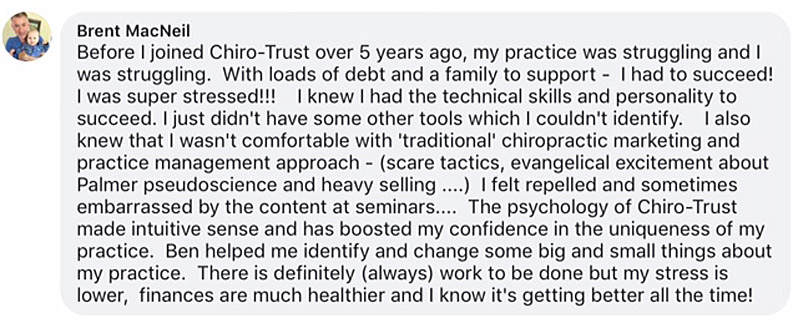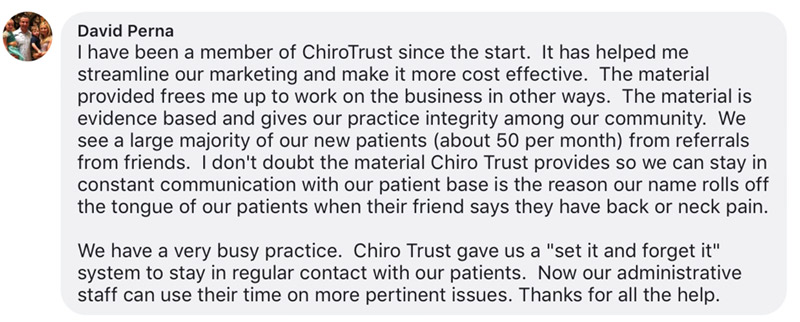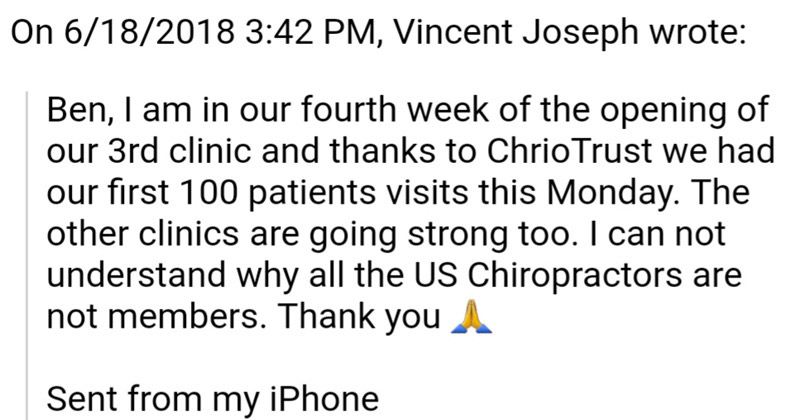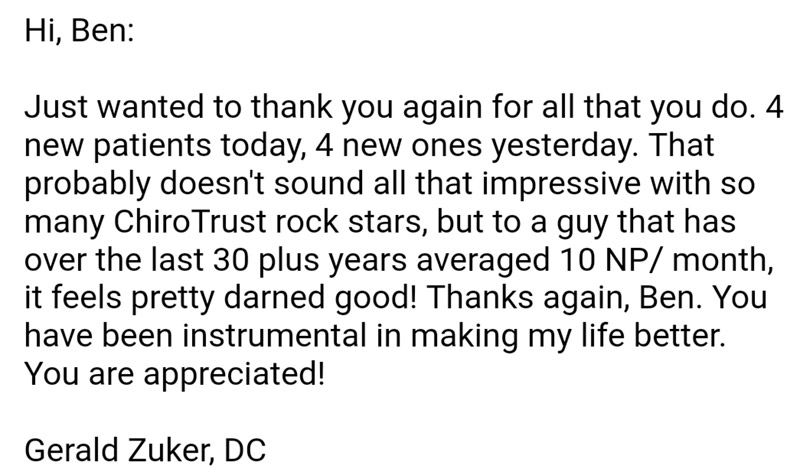 ---
"OKAY, Great Stories, Endorsements, and Testimonials BUT… 
HOW DO I KNOW That ChiroTrust
Will Work for My Practice?"
Within 1 week of you joining, your practice will be marketed with the exact strategies, processes, and systems that are already working day in and day out for each and every ChiroTrust member. But that's not all…You will have 24-7 online access to "The ChiroTrust Committee"…hundreds of ChiroTrust doctors from all over the U.S. and Canada committed to assisting you on all the day to day aspects of creating and maintaining a successful low-stress, low-overhead referral and returning patient-driven practice. We will NOT let you down.
---